Lars Wirzenius: October, 2006
Contents
Monday, October 30, 2006
We're going to have a little Bug Squashing Party in Helsinki, on the 11th and 12th of November. See the wiki page for more information. The location is still open: we have a tentative place, but it's not ideal, so we're looking for something better. If you can offer some place, please mail me, thanks.
We will have the BSP in any case, so if you're interested in coming, start making your plans now.
Tuesday, October 24, 2006
Even people with good intentions can get things wrong. This article talks about the importance of typography and information design in web design, but I can't read it without making my browser window larger...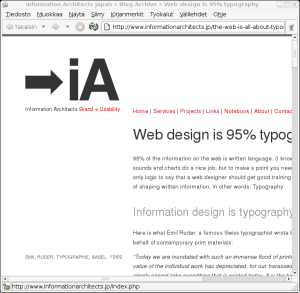 I don't wish to rant specifically on the above page. Actually, I think it's author has a properly positioned heart. It is, however, a poignant reminder of a common problem I have.
My laptop has a 10.6 inch screen. It's very small (and cute!), and it's never a problem, except for one thing: web pages that think they know better than I do how wide they should be, how big the font should be, and just blindly assume that I'm fine with either resizing the window or getting a bigger screen.
Of course, this was a problem with the 14 inch screen of my previous laptop, too. And it was often a problem with the 20 inch screen I had when I used a desktop, unless I allocated an entire virtual desktop for a maximized browser. So perhaps it's not dependent on the screen size, after all.
(I'd be happy to do experiments, if anyone wants to send me a couple of 30 inch TFT screens, though.)
Friday, October 13, 2006
Mailing list discussions, especially about controversial topics, can become very high volume, and tempers easily get out of control. I wonder if it would be easier to conduct a civil discussion on controversial issues if it were done on a wiki page, with an explicit policy of trying to achieve the kind of neutral point of view wikipedia tries to achieve, and with edits being anonymous? The goal would be to write, in anonymous collaboration, a document that covers all the important facts and opinions on a given topic.
It might be good to try it, for some particular discussions. It might fail, but it might not. Perhaps the next proposal for a GR could be done this way.
(I think someone mentioned something like this some time ago, somewhere.)
Wednesday, October 11, 2006
People sometimes ask me what my father does for a living. Saying that he's a telecommunications consultant is very clarifying: people tend to assume he sells modems to companies, which is, er, rather incorrect.
He's just released a Powerpoint slide show about money flow in Net Neutrality that gives a taste of it.
The interesting part of that slide show is that it's based on actual research into how money flows, or would flow, in the ISP world rather than telling decision makers that they do should do the right thing.
---
Many moons ago I thought it might be nifty for my work on Debian QA to have an easy way to see what has changes in each version of a Debian package. I wrote a little script that built a bzr branch for each package, and imported each new version in my mirror. Unfortunately, there were some problems, and I didn't have the patience then to fix them.
Last weekend I finished the script (despite not doing any Debian QA work anymore), and set it running. Today it finished. There were still some problems: 88 packages failed, due to problems in bzr. I've reported them to the bzr mailing list.
The run took about three full days, on an machine with a 2 GHz AMD64 cpu (in 64-bit mode), 1 GB of RAM, and two 80 gigabyte hard disks in striping mode. It would've gone faster, but I ran out of disk space a couple of times, and it took me hours to wake up and notice.
Disk space usage is now about 90 gigabytes, but that's with most branches' working files removed, to save disk space (i.e., only the .bzr directory and contents in most branches).
Note that the size shouldn't grow very quickly. Most new versions only change some files, and only parts of each file. Version control systems are good at keeping only the changes. I'm pretty sure 200 gigabytes would last for a long time. Bandwidth and disk I/O might be more limiting, if we wanted to have this as a service open to everyone.
I don't know if bzr is the best vehicle for this; perhaps a huge Subversion repository would work better. My instinct says that a distributed version control system would work better, but I'm sure a centralized one would work, too. Whatever the system, it might be helpful for QA work, and for making changes in many packages at once, to have something like this.
For QA work, it would make it easy to see what has changed in each version, or to find the version in which a certain change in a package was made.
For sweeping changes, this kind of a system should, I think, make it easier to automate the build and upload of packages that are changed.
I'm not, by the way, suggesting that this kind of a system would be used to do normal maintainer development. It would work by importing new uploads, not by having people commit to it directly.
Or perhaps such a system wouldn't have any use for Debian, I don't know. But at least the script was useful for stress testing bzr a bit, and finding a couple of bugs in it. So it wasn't a waste of time to finish it.
---
Sometimes it's good to show support to people who are under pressure for doing the right thing. Thus: I support Eric Dorland's decision to use the IceWeasel fork of Firefox in Debian. It would be nice if this weren't necessary, but in the reality that we actually live in, Eric made the right decision, and it is a good decision.
I value public perception, but I am firmly of the opinion, and I think history has proven me right, that the best way to get a very good reputation is to stick to doing the right thing. In the long run, this works better than choosing the easiest route to gain short term acceptability.
Security support and software freedom are more important, in the long run, than allowing people to remember only one name for a browser.
(I admit that I'm biased a bit, being an Epiphany user myself. I doubt that affects the thrust of my opinion.)
Tuesday, October 03, 2006
Martin "Joey" Schulze is interpreting my decision to spend some less time on Debian as being due to dunc-tank. He's wrong.
Joey, you're spreading false rumors. You could easily have checked the facts with me, but you chose not to. That is malicious. Kindly do not ever use my name to further your hate campaigns, thank you.
I'm reducing time spent on Debian rather than reducing time spent on other things so I could still do Debian things. One of the reasons for this is that it seems to me that a number of very vocal people in the project have collectively gone insane over the past few months.
As an example, proposing a GR as a reaction to dunc-tank was so much out of proportion that I can't understand how those who supported are capable of acting in a constructive manner at all. Either that or they seriously need a life.
I have some years ago developed an aversion to conflict. Rather than butting my head with insane people, I'll withdraw from mailing lists and reduce my participation in the project to maintaining the package that I care most about.
That's right, Joey, dunc-tank didn't drive me to this. You did.
I don't know if dunc-tank is a good thing or not, in the long run. I think it's a worthwhile experiment, and its future should be decided when the experiment has been done.
Another reason to reduce time spent on Debian is that I'm looking into starting a business. That can be quite time consuming.
Monday, October 02, 2006
Whee, that was fun. I orphaned three packages (liwc, piuparts, and publib), and asked for the removal of two more (python-licosmamo and lodju). The removed ones have no users (mostly not even myself), and the orphaned ones don't either, except piuparts.
I'm hoping someone will adopt piuparts. See #390754 before you do, though.
The reason for this evening's activities: I have more responsibilities than I have time for, so I'm trying to fix that by shedding everything I can. I'm not leaving Debian (I will even maintain a package), but I'm not expecting to put in a lot of effort into Debian development in the near future.
Next year we'll see if I can't arrange for more time for this again.
---
I wonder if anyone is organizing swap meets for computer stuff in the Helsinki area, and if not, whether anyone would like to organize one. Perhaps in Otaniemi, which probably has the highest concentration of computer geeks in the country, and therefore the highest concentration of lots of junk piled in corners, waiting for the day it becomes useful. Couldn't find anything in a few minutes most-popular-search-engining.
I'm looking at my own corners, and there's a few things I might want to get rid of...